Joshua Gabriel is a prolific New York based artist whose practice encompasses public murals, music, persona creation, and painting to conjure an alternate reality. This imagined dimension incorporates and illustrates themes of cosmic consciousness, performance of identity, time travel, and stylistic hybridity. Born and raised in Philadelphia, his visual art and music practices are interconnected, with each feeding the other and both utilizing energetic, layered aesthetics woven into complex yet cohesive labyrinths. He received his BFA from the Tyler School of Art, and worked as a graphic designer before shifting his focus to fine art and music upon moving to Brooklyn in the late 90's.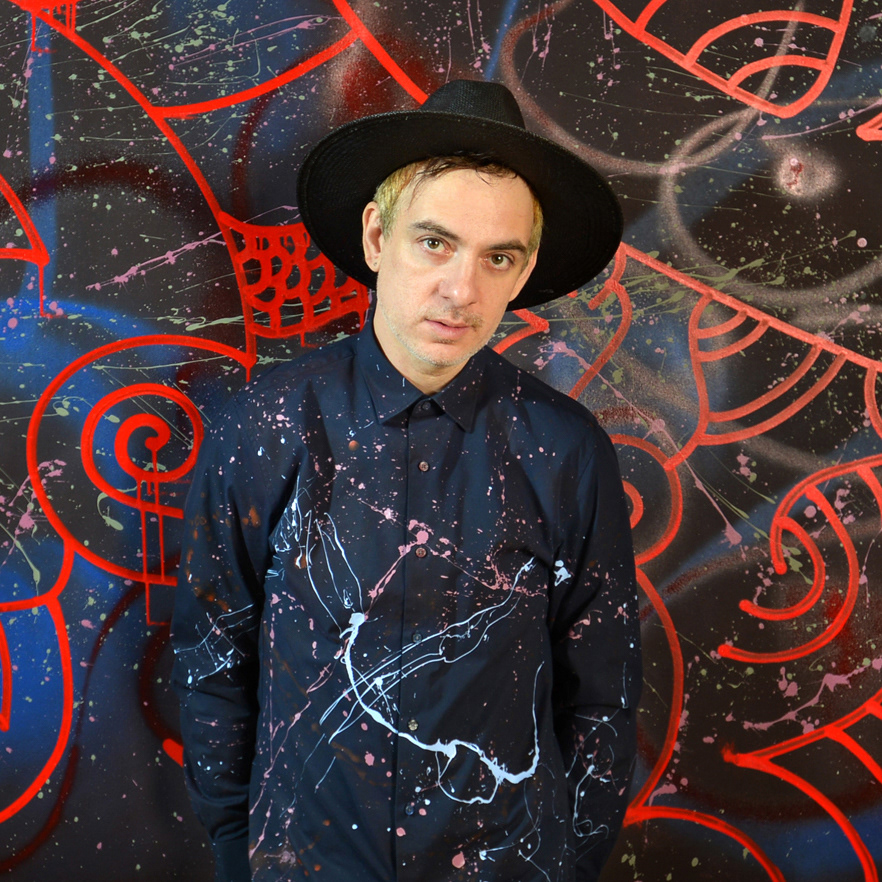 jG
has created large scale public murals throughout New York City and has exhibited and performed extensively in New York, Philadelphia, and the West Coast. He has received media attention in Upper Playground, Vibe Magazine, Frank 151, Street Art NYC, Village Voice, NYPress, A.R.T.S.Y. Magazine, and other press outlets. In 2013 he created
J-Mythos
, a time traveling alter ego, persona, and moniker under which he records and releases music.
An imagined reality, an alternate universe, carved into the blank space of a wall (or room, canvas, or any flat surface) using paint, line, design, and imagery. Metaphysical themes pop in and out: how the invisible becomes visible, how nature creates forms, how the imagination creates images. The decorative patterning of organic shapes resembles and relates to many systems: ornamental design, microbiology, mazes, the circuits of a computer, the feathers of a bird, the branches coming out of a tree, the infinite information of the digital and physical realms. Years of working create a visual language, a combination of archetypal figurative elements and spontaneous improvisation of abstract shapes. Cosmic consciousness

("This consciousness shows the cosmos to consist not of dead matter governed by unconscious, rigid, and unintending law; it shows it on the contrary as entirely immaterial, entirely spiritual and entirely alive" - Bucke)

is hinted at, sometimes revealed

.
​​​​​​​
Mixtape 1                               cassette        1998
Mixtape 2                               cassette        1999
Movement No. I                     LP                  2000
Mixtape 3                               cassette        2000
Movement No. II                    LP                  2001
Joshua Gabriel                       LP                  2003
21st Century Blues                  EP                 2005
Walk the Plank                        LP                  2007
3rd Chance                             EP                 2008
1 World / Waiting                 single            2009
Book of Gemini                       LP                  2012
Slide Away                               track             2013
JOANS                                     track             2014
2,000,000 Light Years            EP                 2015
Everyone is Waiting For You    LP                 2016